Summary: two cool ideas for your drawing inspiration, which involve "hiding" and "searching" a scene of your own imagination

Set-up: 5-10 mins

Play: 30 mins – 2 hours

Complexity: Medium – but older children could create this for younger children to play with too
Materials
Activity 1:
White paper
Black paper
A clear plastic folder or wallet
Permanent marker pens
Scissors
Activity 2:
A large glass baking dish
White paper (the same size as your baking dish)
Pens or pencils or other drawing media
Scissors
A glass
Paint
What to do
First of all encourage your child to draw a scene on a clear plastic folder (NB you will need permanent markers to draw on this). It should be the kind of scene where there are lots of different things to spot, for example, a beach covered with shells, crabs, fish, and buckets and spades, or a forest with trees, flowers, insects, birds and bears. Brainstorm with your child other ideas.
Now place the drawing on top of the black paper and place inside a plastic wallet. Next draw a torch and include a large arc for its beam of light. Cut this out, and place it between the plastic and the black paper. The white paper "beam of light" will reveal your picture!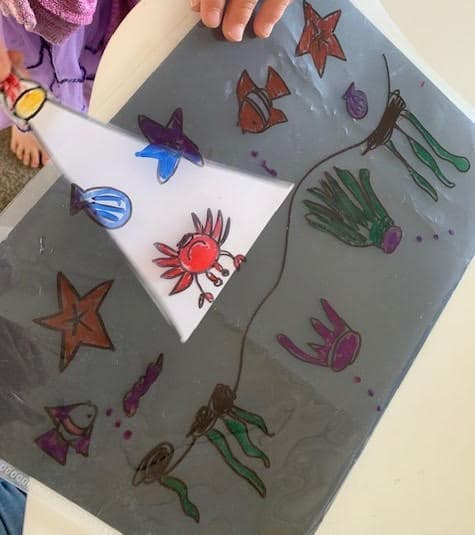 For a variation on this activity, encourage your child to draw another scene on white paper. When your child is finished, place the drawing under a glass baking dish, and add a layer of water to the dish. Find a way to make the water "murky" – for example, you can mix a little paint into the water (ensure you choose something that is entirely dissolvable into the water, you don't want a layer of sediment at the bottom of the dish). Now use a glass as your "spyhole". Press the glass to the bottom of the dish, and slide it about to reveal your drawing. Play a game of "can you spot the crab?" and so on.

Extensions
Experiment with making different torches with different beams of light (wide, narrow, wavy). Can you design a torch that can light up the crab and the mermaid at the same time?
Ask your child to think about how they could make certain things in their plastic folder drawing disappear against the black background.
Challenge your child to make a scavenger hunt list for their scene. Time each other to see how long it takes to find everything on the list.

---
What learning does this activity promote?
Imagination, creativity, fine motor skills, communication and language, planning, thinking.


By Dr Vicki Hargraves